iPhone 11 – ganztägige Batterielaufzeit trotz höherer Rechen-, Grafik- und ML-Leistung
Da die Geschwindigkeit der neuen 11er-Modelle so hoch ausgefallen ist, werden die Testwertungen höher angesetzt. Dies ist verdankt durch den neuen A13 Chip, der für ein ausgezeichnetes Ergebnis sorgt. Die Prozessor- und Grafikleistung des A13 Bionic ist um 20 Prozent schneller als sein Vorgängermodell. Durch den extra entwickelten "Neural Engine" und den Machine Learning Accelerators sind die Prozesse beinahe in Echtzeit, beispielsweise in der Foto- und Videoprüfung.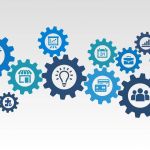 IPhone 11 – All-Day Battery Life Despite Higher Computing, Graphics And ML Performance
Since the speed of the new 11 models is so high, the test scores are set higher. This is due to the new A13 chip, which provides an excellent result. The processor and graphics performance of the A13 Bionic is 20 percent faster than its predecessor. Thanks to the specially developed "Neural Engine" and the Machine Learning Accelerators, the processes are almost real-time, for example in photo and video testing.