TÜV Nord: Digitale Transformation aus eigener Kraft
Die eigenen Mitarbeiterinnen und Mitarbeiter zu "Digital Experts" weiterzubilden, erschien der Firma als am sinnvollsten. Zunächst wurde Ihnen die Theorie und Praxis nahegelegt, danach wurden Trainingsprogramme weiterentwickelt mit "Reviews" und "Feedback-Runden" von denen die schon teilgenommen hatten. Die sogenannten "Leuchtturmprojekte" brachten Influencer und Führungskräfte (insgesamt 650) dazu Ihre Meinung bezüglich Digitalisierung umzustimmen, da Ihnen das zu verdienende Geld zugutekommt, wie aber auch den Kunden. Die Digital Academy kann seit diesem Jahr auch von anderen Unternehmen/ Behörden genutzt werden. Die Einnahmen sollen die Academy finanzieren. Fit machen für den digitalen Wandel, das ist die Methode.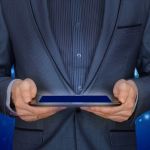 TÜV Nord: Digital Transformation Under Its Own Steam
To train their own employees to become "Digital Experts" seemed to the company to be the most meaningful. At first, theory and practice were suggested to them, then training programs were further developed with "reviews" and "feedback rounds" from those who had already participated. The so-called "lighthouse projects" led influencers and managers (650 in total) to change their minds about digitization, as they benefit from the money they earn, as well as their customers. Since this year, the Digital Academy can also be used by other companies/authorities. The revenues will be used to finance the Academy. Getting fit for digital change is the method.