Last Mile of Analytics – SAS will seinen Kunden bei Analytics-Projekten unter die Arme greifen
Analytics-Projekte sollen schneller für analytischer Modelle im Management, Operationalisierung, Monitoring, Training und Governance realisiert werden. "ModelOps Health Check Assessment" ist ein Service für Selbsteinschätzung und Implementierung von Analytics für Unternehmen. Der sogenannte "Selbst-Check" in einem Vorort Workshop soll dabei helfen, wie vollkommen die Firma im Management analytischer Modelle ist. Somit können bessere Entscheidungen getroffen werden, aber auch die Performance angepasst werden.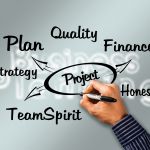 Last Mile Of Analytics – SAS Wants To Help Its Customers With Analytics Projects
Analytics projects should be realized faster for analytical models in management, operationalization, monitoring, training and governance. "ModelOps Health Check Assessment" is a service for self-assessment and implementation of analytics for companies. The so-called "self-check" in an on-site workshop should help to determine how perfect the company is in the management of analytical models. Thus better decisions can be made, but also the performance can be adjusted.