Leitfaden zum KI-Einsatz in Unternehmen
Eine klare KI-Version und branchenübergreifende Kooperationen sind laut den Experten der Plattform Lernende Systeme (PLS) nötig.
Gruppen entwickelten Handlungsoptionen und Empfehlungen für den verantwortlichen Einsatz von Lernenden Systemen.
Mitarbeiter müssen die Möglichkeiten und Technologien der KI verstehen und die Potenziale für das eigene Unternehmen identifizieren, dabei darf vor keinen Kosten gescheut werden und Geschäftsmodelle müssen angepasst werden.
Das vorhandene Personal muss weitergebildet werden und Fachkräfte angestellt.
Erst wenn das Personal das System verstanden hat, kann KI erfolgreich eingeführt werden.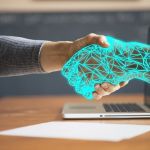 Guideline For The Use Of AI In Companies
According to the experts of the Platform Learning Systems (PLS), a clear AI version and cross-sector cooperation are necessary.
Groups developed options for action and recommendations for the responsible use of learning systems.
Employees must understand the possibilities and technologies of the AI and identify the potentials for their own company, while no costs must be spared and business models must be adapted.
The existing personnel must be trained further and skilled personnel must be hired.
AI can only be successfully introduced once the staff has understood the system.