Wenn Behälter sich selber wechseln
Durch sensorisierte Behälter soll die Qualität der Waren während der Transporte besser überwacht und gewährleistet werden. Dies funktioniert, indem Lieferanten, Transportdienstleister und Unternehmen die Behälter digital und in Echtzeit über eine drahtlose Infrastruktur aus Ankerknoten und Gateways mit der Serviceplattform beobachten können und somit die Bestellung ermittelt werden kann hinsichtlich Inhalt, Standort und Umwelteinflüsse. Das Behälterdisplay kann dem Qualitätsmanager erkennen lassen, ob die Bestellung erstmal auf seine Funktionstüchtigkeit kontrolliert werden muss.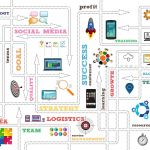 When Containers Change Themselves
The quality of the goods during transport is to be better monitored and guaranteed by means of sensorised containers. This works by enabling suppliers, transport service providers and companies to monitor the containers digitally and in real time via a wireless infrastructure of anchor nodes and gateways with the service platform and thus to determine the order with regard to content, location and environmental influences. The container display can tell the quality manager whether the order needs to be checked for functionality.