Corona-Krise: Unternehmen sind gezwungen, digitale Technologien einzusetzen
Während die Länder gesperrt werden, sind die Menschen gezwungen, soziale Distanz zu wahren und von Zuhause aus zu arbeiten. In Zeiten wie diesen werden digitale Technologien wichtiger als je zuvor. Wir sind möglicherweise nicht in der Lage, physisch nahe beieinander zu bleiben, aber wir müssen trotzdem sozial und beruflich miteinander kommunizieren.
Infolge der Pandemie müssen jetzt auch Unternehmen, die früher "digital faul" waren, ihr digitales Spiel verbessern: Videokonferenzen, Dokumentenaustausch, Cloud-Lösungen, Informationssicherheit – Unternehmen aller Branchen, ob sie es mögen oder nicht müssen digitale Technologien einsetzen, um ihren Betrieb am Laufen zu halten.
Das Ergebnis wird eine steile Lernkurve sein. Unternehmen, die sich bisher auf veraltete Lösungen verlassen haben, werden nun die Effizienz digitaler Tools erleben. Führungskräfte, die sich gescheut haben, Menschen zu erlauben, von zu Hause aus zu arbeiten, werden feststellen, dass einige Leute produktiver werden, wenn sie in ihrer eigenen Umgebung arbeiten können.
All dies könnte zu einer Änderung der Denkweise führen und den Weg für massive Digitalisierungsbemühungen in den kommenden Jahren ebnen.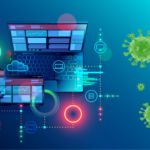 Corona Crisis: Businesses are forced to use digital technologies
As countries go into lockdown, people are forced to keep social distance and work from home. In times like these, digital technologies become more crucial than ever before. We may not be able to stay close to each other physically, but we still need to communicate with each other, socially as well as professionally.
As a result of the pandemic, even companies that used to be "digitally lazy" will now have to step up their digital game: Video conferencing, document sharing, cloud solutions, information security – businesses across all industries, whether they like it or not, will have to use digital technologies to keep their operations running.