HR-Trendthemen 2019
Wie digitale Prozesse Personalabteilungen verändern
Big Data weiß, welche Mitarbeiter als Nächste gehen, Software schreibt in Sekundenschnelle ein Zeugnis und Bots schicken die Absagen an Bewerber. Die Digitalisierung ist auch in den Personalabteilungen angekommen. Vier Trends zeichnen sich für dieses Jahr ab.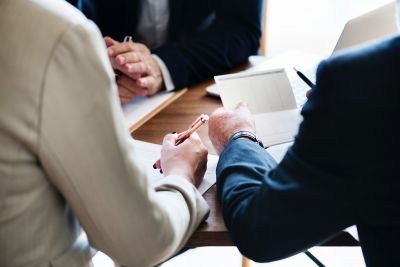 Vier Trends zeichnen sich für dieses Jahr ab
People Analytics hilft, Entscheidungen im Personalwesen basierend auf Big Data zu treffen.

KI filtert künftig Informationen aus Mitarbeiterdokumenten und erstellt daraus Beurteilungen.

Robotic Process Automation digitalisiert und automatisiert Standardaufgaben schnell und kostengünstig.


Collaboration wird wichtiger
HR trend themes 2019
How digital processes change personnel departments

Big Data knows which employees will leave next, software writes a report within seconds and bots send the rejections to applicants. Digitization has also arrived in the personnel departments. Four trends are emerging for this year.
People Analytics helps to make human resource decisions based on Big Data.

In the future, AI will filter information from employee documents and create assessments from it.

Robotic Process Automation digitizes and automates standard tasks quickly and cost-effectively.

Collaboration becomes more important